A Mexican party, the best alibi for drinking Margaritas...
Live-Music at the Door of Iron...

The Honourable Reader if at all a follower of this humble blog might remember a pleasant lunch by a swiming pool in Puerta de Hierro, reported about last 11 July, posted under "Mark Spitz" title. Well, I returned to that wonderful spot and I am happy to confirm that even at the heart of the serious Imperial capital of Castilla there are fancy parties going on, just like in the British World, albeit in smaller doses. The cosmopolitan couple I mentioned before,
Der Ingenieur
and
Garbo
, throw a early post-Summer theme party each year , eagerly attended, and this time the invitation mentioned "Fiesta Mexicana".
I must confess I had something of a dilemma at hands. Should I ignore the implicit request to fancy-dressing myself, should I timidly include some Mexican detail in an otherwise casual chic outfit or should I go all the way, more Mexican than me you die? (A trilemma, rather). The Honourable Reader is quite acquainted with the mechanics of my psyche by this time of this Blog's existence and no doubt guessed that I went for the third option.

After some telephonic research conducted by an efficient member of my staff (at work, not at this Blog, which is a purely one-man show, if one can use this word), a theatrical rent-a-dress joint was found in a slightly seedy part of town (I counted a number of peepshows and erotic establishments walking down the street, on the way back home). A first floor in an delerict building, with Habsburg velvet coats, StarWars helmets and Jacobean wigs, was the almost underworld place where I was told a Mariachi outfit could be found. Evita, the generously bodied Venezuelan assistant wanted me to carry pistols as an essential item to enact a hotblooded Mexican, while a shy-looking member of the public, in town to sing Medieval romanzas, would rather have me gun-less. After some undressing and dressing in a cubicle under fluorescent lights that ruin a 4-weeks Atlantic Coast suntan, I opted for a dark blue velvet outfit I was assured to be used by the most discerning Mariachis. (I suspect it belongs rather to the "Goyesca" family of fancy-dressing but I'm not in the mood to peruse further into Clothes Taxonomy).

A last problem remained. The outfit asks for a wide sash round the waist (like the black satin "cummerbund" on a dinner-jacket) and there was none of it, except for a pitiful sky-blue ersatz. I had, then, to pay a visit to Zorilla, a kind of Madrid's Peter Jones in what regards pieces of cloth for economy-conscious upper class ladies on the hunt for material for their new season dresses. I bravely defied the suspicious looks of a customer eager on Armani-like soft fabrics (at the tenth of the price) and I acquired two meters of dark-blue satin that seemed to do the trick, rolled around my burgeoning belly with a turban-like technique.
A last minor problem to solve were the riding boots. My own were dry as some fins of salted cod forgotten in the backyard of a grocery, so I had to go out again to purchase some horse grease, in order to, with energetic concentration, make it soft and shiny.
At the party itself, the margaritas were consumed with abandon, and the champagne, under the circumstances, was drunk more in a way of the glasses of water one sometimes have to indulge in to delay the no-return point of acute alcoholism. When, after the real Mariachis, the salsa arrived, I tried to dance with Central-American poise and Iberian furia, but my efforts were somewhat marred by the ever falling bloody "cummerbund"..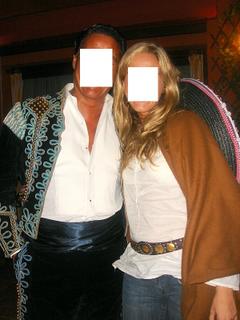 I was lucky enough to be seated next to a
Roxanna
whose blondiness and general good looks comes not from Celtic Asturian blood but from Austro-Hungarian ancestry. That gave the party a spice that one would rather expect in the sauce of the, obviously excellent, Mexican food.
(Note the accessories of the true Mariachi outfit: the satin "cummerbund" and the blonde girl with sombrero (optional) )