A typical evening out in Theatreland ( Convent Garden) ...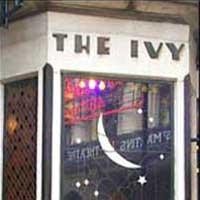 A meal to remember, at "The Ivy"

Spend a night in London before descending to the South. An emotional rollercoasting evening which I'm not prepared to share with the whole cybernetic outerspace populace. Two details only: a
play by Neil La Bute called "This is how it goes", with Ben Chaplin, at the Donmar Wharehouse
(with a glass of Sauvignon Blanc in my hand allowed inside the stalls area! O Britain of Yesteryears Where Art Thou?!
); a
superb meal
(Scallops, Potted schrimps, Poussin des Landes)
at the near-unbookable ubber-trendy "The Ivy"
( have a look at
http://www.london-eating.co.uk/19.htm
)
(Bumblebee, with toff-class aplomb, posing as Private Assistant to the visiting White Russian Countess, managed to get us a table with just 24 hours notice. Well done).
La Bute's play, with a mono-female bi-coloured love triangle, depicts, according to promo literature, a "forensic look at race and infidelity". Good stuff, no time for substantial review right now. I left the performance with the usual in-awe feeling that words and interjections in theatre-writing are a totally distinct matière première from the language source of novelistic literature. Words can even be the same but the medium makes them utterly distinct. At the peril of repeating myself: Good Stuff!.